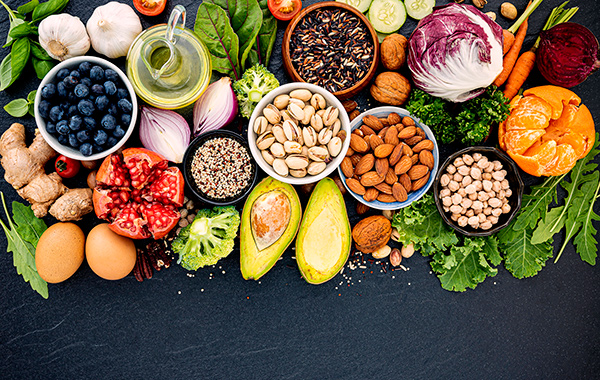 The old adage "you are what you eat" is true. Some foods may trigger more inflammation, while others can help reduce it.
Inflammation is the battle our body wages to ward off perceived threats. Inflammatory cells can insert themselves into tissues and, over time, weaken them. Unhealthy foods can set off our immune system and activate inflammatory responses, causing pain and stiffness throughout the body. Long-term exposure to excessive sugar, refined carbohydrates, and saturated fats dramatically contributes to this inflammatory response.
Choosing foods that fight joint inflammation can fill nutritional gaps and help reduce joint pain. Consider adding these super foods to your diet:
Omega 3 Fatty Acids

reduce inflammation and stiffness. This healthy fat is found in salmon, sardines, mackerel, and anchovies. If you're not a fan of fish, try plant-based sources of Omega-3 foods, such as ground flax, flaxseed oil, and walnuts.

Avocados

are loaded with potassium, magnesium, fiber, and heart-healthy monounsaturated fats and lower inflammation in newly forming cells.

Tumeric and Ginger:

Turmeric contains a chemical called curcumin that can reduce joint pain and swelling by blocking inflammatory cytokines and enzymes. Ginger is said to decrease joint pain and reduce inflammation. Ginger has anti-inflammatory properties similar to ibuprofen.

Berries

contain antioxidants called anthocyanins. These compounds have anti-inflammatory effects that may reduce your risk of disease.

Broccoli, Kale, Cauliflower, and Brussel Sprouts are

cruciferous vegetables that have anti-inflammatory effects due to their large amounts of antioxidants.
Eating to keep inflammation in check by choosing a wide variety of delicious, antioxidant foods can make you feel better, while reducing inflammation in the spine, feet, ankles, hands, hips, knees, and shoulders. Learning to make healthy lifestyle choices can drastically improve your overall health and lower joint pain and inflammation.
Author: Dr. Cary Templin specializes in the operative and non-operative treatment of the cervical, thoracic, and lumbar spine. Dr. Templin is an expert in minimally invasive surgical procedures. His practice includes spinal decompression and fusion, microsurgery and motion-preserving procedures, including artificial disc replacement.in Munster, Indiana.