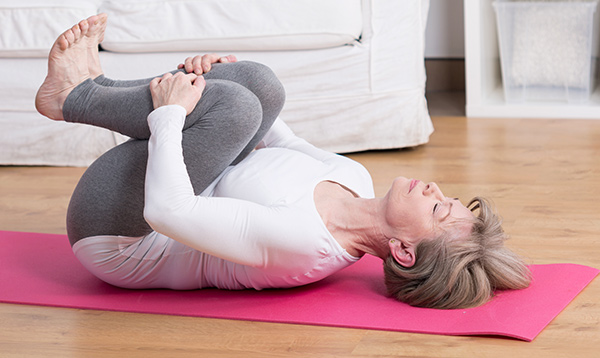 Back injuries are among the most commonly reported injuries in America with about 16 million adults reporting back issues each year.1 Back injuries can result from a variety of activities, ranging from high-intensity sports to daily work around the house, or on the job. Some of the most common back injuries include back strains, back sprains, herniated discs, and fractured vertebrae.
Fortunately, these injuries can be prevented with proper exercise and lifestyle changes. Here are some tips on how to avoid common back injuries:
Strengthen Your Back


Building muscle in your back is extremely important to stabilize and support your body. When the spine becomes weak due to a lack of muscle support, you're left vulnerable to injuries, such as a herniated disc or fractured vertebra.

Keep Good Posture


Good posture is essential to maintain back and spine health. Try not to slouch and make sure to stand and sit up straight with your shoulders back. Good posture and form, especially when working out, can reduce strain on your back and muscles, avoiding pain and injury

Maintain Healthy Eating Habits


A healthy diet can dramatically change your spine health. Staying at a lower weight reduces strain on your back. Foods that are high in calcium and vitamin D are great to keep your backbones strong, to avoid fractures.

Increase Flexibility


Practicing yoga or stretching before and after a workout is a great way to increase flexibility. Having flexibility in your back will help avoid back strains and sprains because your tendons and ligaments will be more accustomed to being stretched.

Quit Smoking


Did you know that smoking can contribute to your back pain or injury? Studies have found that smoking can damage arteries in the spinal discs and back joints, resulting in pain and increased risk of injury. Additionally, nicotine has shown harmful effects on bone-forming cells, making fractures more likely while causing delays in the healing process.2 If you suffer from back pain or are at risk of back injury, it's in your body's best interest to stop smoking as soon as possible
Following these tips can significantly decrease your risk of injury, and help alleviate most causes of back pain. Back injuries are not a joke and can be extremely debilitating, thus it is important to put these tips into practice.
Author: Dr. Cary Templin specializes in the operative and non-operative treatment of the cervical, thoracic, and lumbar spine. Dr. Templin is an expert in minimally invasive surgical procedures. His practice includes spinal decompression and fusion, microsurgery and motion-preserving procedures, including artificial disc replacement.in Munster, Indiana